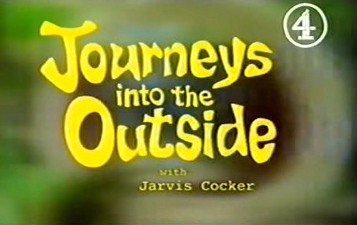 British singer Jarvis Cocker in 1998 made a trip along a lot of outsider environments in Europe and the USA in order to produce a tv-movie, Journeys into the Outside, broadcasted by British Channel 4 in 1999.
This movie has become kind of a classic among those who are interested in outsider art and art environments by non-professionals. However, after the film was broadcasted, it didn't become available through any public medium.
But enthusiasts could rejoice:
in April 2012 the movie was downloaded on YouTube
(however, since 2016 it is not available in some countries due to a copyright claim)
The movie comes in three parts. The first part deals with some classic French sites and when present those who created them. Jarvis' voice-over is in English, but his conversation with the creators of the sites is in French (subtitled in English).
These are the French art environments Jarvis Cocker visited:
*
the house of monsieur G
as it was some twelve years after he died, with fragments of the Prévost movie about monsieur G and his site, and an interview with Prévost (starts at 16'28")
*
the site of Chomo
, with fragments of the Prévost movie, but without Chomo himself (starts at 27'00")
* Edward James' built structure in Mexico
* Bruno Weber's site in Switzerland (starts at 30'24")
* Michel Thévoz of the Lausanne Art Brut Museum (starts at 34'50")
* Nek Chand's Rock Garden (starts at 42'38")

Journeys into the outside is a classic indeed.