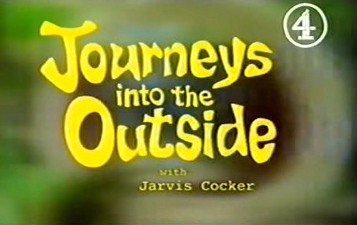 British singer Jarvis Cocker in 1998 travelled along a lot of outsider environments to produce a tv-movie, Journeys into the Outside, broadcasted by British Channel 4 in 1999.
This movie has become kind of a classic among those who are interested in outsider art and outsider environments. However, after the film was broadcasted, it didn't become available through any public medium.
But enthusiasts now may rejoice:
in april 2012 the movie was downloaded on Youtube
(
since 2016 not available in some countries due to a copyright claim
)
It comes in three parts. The first part deals with some classic french sites and when present their authors. Jarvis' voice-over is in english, but his conversation with the creators of the sites is in french (subtitled in english).
These are the french environments Jarvis Cocker visited:
*
the house of monsieur G
as it was some twelve years after he died, with fragments of the Prévost movie about monsieur G and his site, and an interview with Prévost (starts at 16'28")
*
the site of Chomo
, with fragments of the Prévost movie, but without Chomeaux himself (starts at 27'00")
* Edward James' builded structure in Mexico
* Bruno Weber's site in Switzerland (starts at 30'24")
* Michel Thévoz of the Lausanne Art Brut Museum (starts at 34'50")
* Nek Chand's Rock Garden (starts at 42'38")

Journeys into the outside is a classic indeed.